Landscape Services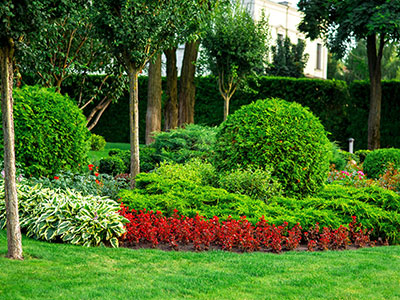 At La Nina Landscape Inc, we offer customized and personalized landscape design and maintenance services that will meet your needs and fit your budget. We are a reputed company that has been serving residential and commercial clients throughout the region. Our team uses the latest technology like 3D software and modern installation techniques to create stunning landscapes on our client's properties. We handle everything from lawn and shrub care to tree maintenance, and we provide comprehensive gardening services.
Landscaping Projects
We are the local landscapers to call if you need detailed, high-quality landscape design, development, and installation services. A well-known and trusted name in the business, we have long served residential and commercial customers in the region. Our experienced team has worked on a wide range of projects over the years. We can design and develop a new landscape for you or add features and installations to an existing landscape on your property. Our specialty is creating unique landscape plans and designs based on your vision and ideas so that you can enjoy your outdoor spaces to the fullest. The professionals on our staff, including landscape designers, lawn care experts, and tree specialists, can handle even the most challenging landscape construction projects. Our company can take on new landscape and improvement projects tailored to your needs. Read More About Landscaping Projects >>
3D Designs
We recognize that our clients want better visibility of the result during landscaping projects than what they can see from 2D designs and layouts. Therefore, we use 3D renderings in our work. Our designers use cutting-edge 3D Design software that helps us provide digital images and videos to clients, giving them a better sense of how their landscape will turn out. With regards to the measurements and layouts, these videos are spot-on. You can get a "feel" of the finished landscape thanks to the detailed rendering. You'll have a good idea of how the outdoor area will look after your landscape elements are in place. We can swiftly change the 3D design blueprints to accommodate any changes you need. This method saves you a lot of money and time by preventing the need for installation-phase fixes when something is different from your expectations. Read More About 3D Designs >>
Gardening Service
Our company makes it easy to get your gardening done. That way, you can use your time for more important things. We can help you maintain your residential or commercial garden with weeding and fertilization services all year long and offer a complete range of services for all your garden-related needs. Trimming and planting, weeding, and watering—we handle it all. And we do it all with skill and efficiency. Whether you need us to re-design your garden or protect it from the weather, you can count on us to do it quickly, correctly, and at a fair price. Our gardening services help create a sustainable landscape, saving you water and energy. You get more attractive gardens with more resistant plantings. With our specialized gardening services, fuller shrubs and plants, beautiful blooms, and healthy grass are all possible. We provide tailored solutions, ensuring that you get gorgeous, healthy, and long-lasting gardens. Read More About Gardening Service >>
Tree and Shrub Care
The vibrant and attractive plants seen in local landscapes thrive in California's tropical climate. However, many of the exotic trees and shrubs found in our gardens are from elsewhere and are not native to the area. This implies that they require specialized fertilization and pest management to be healthy and beautiful in the long term. A broad-spectrum approach, such as the one we use, guarantees that all the plantings in the landscape receive the nutrients they require to be healthy and disease-free. It's why we recommend the use of fungicides to protect the trees and shrubs. If no safeguards are put in place, these conditions will serve as a breeding ground for fungi and other plant diseases. We understand all the challenges of maintaining the living features in a landscape. Our team is well-equipped to offer customized shrub and tree care to commercial and residential clients. We use organic products and the latest techniques to create healthy and attractive landscapes on our client's properties. Read More About Tree and Shrub Care >>
Tree Injections
We recommend using specialty disease-fighting and fertilizing tree trunk injections in landscapes with large trees or trees where conventional fertilization is impossible. These become a component of the customized tree maintenance program. Our team uses tree trunk injections to supply nutrients for your tree's health or combat certain leaf diseases or insects. Nutrients for iron chlorosis, fungicide for certain diseases, manganese and iron deficiency nutrients, phosphorus and potash, and a range of targeted insecticides are some of the tree trunk injection treatments we provide. Before creating a strategy to safeguard and nourish trees, we pay close attention to how they are doing. Keeping them healthy and disease-free is easy with this method. Our staff is well-versed in trees, having worked with a wide range of them throughout the years. They make sure that the tree injections used are perfectly aligned to the tree's nutrient requirements. Read More About Tree Injections >>
Tree Service
We are the experts who can deliver the best services for storm-damaged, lightning-struck trees, decaying, diseased, or pest-infested trees, and plants. Trees can enhance your landscape's beauty, increasing your property's value. We've served many customers in the area over the years by offering the best tree care options. It's easy to think that trees require little upkeep because they appear to be so big and strong. However, these living elements in your environment require frequent attention and care. Our experts will schedule trimming and pruning based on the type of tree, and we'll check it thoroughly for pest and fungus infestations. Keeping your trees robust and beautiful is easier when we tackle infestations as soon as they become apparent. To develop tailored tree care solutions, we evaluate your property's various types of trees, providing the best solutions. Read More About Tree Service >>
Lawn Fertilization
Every lawn needs care and attention regularly to grow healthy and retain its sustainability and durability. We provide the best and most advanced fertilization strategies and may include them in larger landscape maintenance packages. This specialist work necessitates knowledge and experience. We develop a lawn fertilization strategy for you that takes into consideration the different seasons. Aside from that, we consider the unique requirements of various grasses. This approach guarantees that your grass receives the care and attention required to become robust, lush, and healthy. This increases its durability and allows it to endure ordinary wear and tear considerably better. All our lawn fertilization plans include weed management treatments. Our company focuses on producing sustainable landscapes, including utilizing organic fertilizers and pest control methods that are safe for humans and good for your grass. Read More About Lawn Fertilization >>
Lawn Mowing
Lawns that are well-kept and mowed regularly provide a lovely touch to your landscape. These spaces also contribute to the greenery of your surroundings and give the place a fresh feel. The lawn also becomes an attractive backdrop for colorful plants and blooms in the landscape. However, anybody who has attempted to perform lawn maintenance tasks like mowing will know that this work can become rather boring to perform regularly. When it comes to high-quality lawn mowing solutions, it's better to choose established experts in the area, such as us. Our experienced and knowledgeable professionals use commercial lawn mowing machinery to manage small and big projects with the same efficiency and speed. We will also manicure and trim the perimeter of all the grassy areas, which helps add neatness to the outdoor spaces. We keep an eye on them during mowing and ensure that no hardscaping elements next to the lawn suffer any damage by the equipment. Read More About Lawn Mowing >>
Lawn Renovations & Seeding
A variety of factors might contribute to grass degradation. It's why we take a tailored approach to lawn restoration, with our staff first determining what's wrong before giving a thorough lawn rehabilitation strategy. We may do partial lawn repair if your grass has barren or brown spots. The team will treat the lawn in portions, which may include overseeing that section. Before planting the seed, we will also evaluate the soil to determine if it is deficient in any way and provide the necessary organic fertilizers. Power seeding is the fastest approach to repair deteriorated lawns and ensure maximum seed germination. We adopt this method for small barren spots on lawn areas and in comprehensive grass restorations. We use high-quality grass seed and perform it expertly. Core aeration is necessary to guarantee that the grassroots receive adequate water, oxygen, nourishment, and minerals from the soil. Read More About Lawn Renovations & Seeding >>
Residential & Commercial
We have a team of highly trained landscape designers and contractors that will work closely with you to establish your design preferences and then deliver solutions that are ideally suited to your needs. While we provide high-quality solutions, we keep our landscape design costs minimum, giving you good value for money. Our team considers the property's layout and architectural aspects when creating any design suggestions for your landscaping. Furthermore, we make sure that all existing features, such as trees and plants, are included in the design idea in some manner. We offer tailored solutions for all your commercial or residential landscape design and construction requirements. This meticulous approach and emphasis on quality ensure that your landscape will appear beautiful and healthy for many years to come. We can help you create the outdoor areas of your dreams, no matter how big or small your project is. Read More About Residential & Commercial >>
Mulch Installation
We provide a wide variety of organic and synthetic mulches. Following extensive talks with you, our staff will analyze your needs. Mulch has several advantages in the landscape. They provide a protective layer over the soil in the winter, shielding it from frost and cold, and it's a fantastic method to minimize soil crusting. Organic mulches decompose over time and nourish the soil. They greatly aid in the retention of moisture in sandy soil. Mulching around tree trunks is preferable to growing grass all around trees. Mulching also improves plant health and prevents soil erosion. When you utilize organic mulch regularly, it increases the fertility of your soil and makes micronutrients more accessible to your plants and shrubs. We can provide the mulch you require, and our trained and educated crew will skillfully apply the mulch where appropriate. We provide unmatched quality at a reasonable mulching cost. Read More About Mulch Installation >>
Sod Installation
We are a prominent business and residential landscaping company that provides sod installation solutions to consumers around the region. Our goal is to provide our clients with high-quality landscaping services at a reasonable price. We have the skills, resources, and knowledge to manage all elements of sod installation properly. Installing sod is a straightforward process. However, this specialized task necessitates the skills of specialists such as us. Sod lawns are a quick and easy way to acquire a beautiful, full-grown lawn in a matter of hours. It looks fantastic from the moment you install it. In seeded lawns, you must wait for months for the grass to grow. There is no time delay, and you can begin enjoying the lawn as soon as it is installed. The grass also settles in better than seeded lawns, which require the proper soils and weather conditions to develop and thrive. Read More About Sod Installation >>
Artificial Turf
People want their grass to look abundant and green in their landscaping. But the upkeep of these installations consumes a lot of effort, time which most individuals don't have. This is where we recommend artificial grass. This low-maintenance substitute to natural grass is ideal for both homes and businesses. One of the most significant advantages of using artificial grass is its convenience. You don't have to bother about mowing, watering, fertilizing, or otherwise caring for it. You can easily remove debris and leaves using a blower and occasionally hose the fake grass. The best synthetic grass is quite durable, and you won't need a replacement for at least ten years or more. Even though it is frequently exposed to UV rays from the sun, it is weather-resistant and will not fade. These qualities are difficult to overlook, and many people are now moving away from installing natural grass on their commercial and residential properties. Read More About Artificial Turf >>
La Nina Nursery
Our local nursery attracts a steady stream of discriminating clients searching for healthy and attractive plants, shrubs, and flowers. We understand that property owners want high-quality plants and landscaping materials to maintain the durability and health of their gardens. We provide superior plants, shrubs, and trees at reasonable prices. The nursery has a long list of regular customers, which has grown steadily with each passing year. Our professionalism, dedication to quality, wide variety of products are some aspects that set us apart from other nurseries in the region. In addition to the beautiful plants, we sell other necessary materials such as topsoil, mulches, fertilizers, and more. You can source all these products from us. We also realize that today's clients want low-maintenance landscaping. In addition to appropriate planning and high-quality materials, we can assist you in selecting native trees and plants for more water-efficient, eco-friendly, sustainable landscapes. Read More About La Nina Nursery >>
We design our solutions to meet client needs while always keeping their budget in view. You will find that our team is knowledgeable and helpful and always on hand to provide recommendations and insights on products, materials, and design. At La Nina Landscape Inc., we assure you of the best services at affordable pricing. We have the skills needed to provide you with top-quality landscaping design, installation, and maintenance services in North Hollywood, CA. With us, you get all these services under a single roof. Feel free to call us at 8184046822 for additional information regarding these and our other services. You can also send us your queries via this Online Form, and one of our experts will call you to discuss your project's specifics.
We Provide Services to the Following Cities, Towns and Surrounding Regions of CA:
Contact Us
Get
a Free Quote